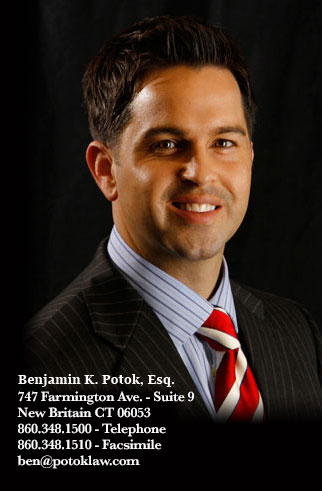 Benjamin K. Potok, Esq. - Attorney
Education
Attorney Benjamin K. Potok obtained his undergraduate degree from UCONN in 1999 followed by his Juris Doctor, Cum Laude, from Quinnipiac University School of Law in 2002. At Quinnipiac Law, Attorney Potok was an Associate Editor of the Probate Law Journal, and he excelled academically, receiving awards for "Distinguished Academic Achievement" in several areas of his studies.
Experience
Attorney Potok began practicing at the law firm of Bai, Pollock, Blueweiss & Mulcahey, P.C., where he was trained by some of the best trial lawyers in the State of Connecticut. After 7+ years of experience defending against claims of negligence and malpractice on behalf of insurance companies, he formed Potok Law, LLC. This invaluable foundation of knowledge and insight regarding insurance company practices and defense strategies has resulted in a tremendous advantage to the clients of Potok Law who have been injured as a result of negligence, malpractice or during the course of their job (worker's compensation). Attorney Potok's familiarity with "the other team's playbook" allows him to see his client's cases from a different and unique perspective, from the pre-litigation phase through to the trial phase of a case and, perhaps most important, during the course of settlement negotiations.
Credibility
From the time that he was admitted to practice law in 2002, Attorney Potok has steadily built a reputation as a reliable, hard-working and trustworthy individual, both personally and professionally. Judges and peers respect Attorney Potok for his relentless ambition, his litigation expertise, and the level of professionalism and integrity he demonstrates. Colleagues find him a valuable resource and often call upon him to consult and assist regarding a variety of legal matters. Above all, Attorney Potok is most proud that his clients consistently report their satisfaction with his compassion, accessibility and credibility.
Community Involvement
Attorney Potok also strongly believes in the importance of giving back to his community, and over the years, he has served as a mentor and devoted much of his time and resources to charitable organizations. He is a member of the St. Francis Young Professionals Committee, The New Britain Lions Club and a corporator of the Francis Foundation. Attorney Potok also serves as President of the Woodlands of Newington Condominium Association in Newington, CT and the Hillside Estates Condominium Association in Shelton, CT.